By Sharhidd Booley
Bleary-eyed and perhaps hoarse from much whooping and cheering during 15 days of viewing the television broadcasts of the 2016 Olympic Games (OG) in Rio de Janeiro, Brazil, many devotees of this highest stage of sporting excellence now rue the end of it all. They are left with pleasant memories of the achievement of men and women from the global village, whose hopes and dreams of accolades and laurels have been realised, or lay in tatters.
The many 'lucky' spectators who attended the over 306 events across 28 sporting codes1 would certainly have tired feet, strained eyes and vocal cords, having trotted or ridden to, viewed, and made noises at, the array of events. Likewise, the Paralympics, due to begin a few days and the next Winter Olympics, will, I am sure, attract many like moths to a flame, and produce similar outcomes for those on and off the field, despite all the doom and gloom mongering that preceded all three Games2.  At the same, the world is gifted with the hallowed Hajj, an annual event that defies any chance of ever being plucked off.
Thrust into stardom, athletes who now bask and wallow in the warm wake of championship, as well as their runners-up, attest to the benefits of superior physiques, physical prowess, skill, talent, mental strength, a will to succeed, self-belief, a sense of achievement, hard work, resoluteness, preparation, support, and perhaps other factors outside of their control (like luck or serendipity).
Those less successful, however, are left to lick their wounds and wish for better days in their sporting aspirations. Psychology would hasten to add that the need for esteem, recognition, and belonging ought to be added as another spur to the range of motivations and attributes3.
These are to be seen as the most humanly significant grounds on, and reasons for which a leviathan of sports such as the OG takes place. They are subsumed in the overarching philosophy and mission of the International OG Committee (IOGC) of 206 members representing 196 countries4.
Touting such time-worn fundamentals like togetherness, equality, dialogue across racial and cultural barriers, forging of international links, solidarity, and respect, in the face of global uncertainty, mistrust, and crises, Thomas Bach, President of the IOGC, could not have sounded more perfunctory in his opening of the Games5.
The staple of all previous openings and closures, these words stirred the expectant crowds into acquiescence a little more than the feeble flutter of the Olympic flag and its five ambitious rings of global integration and no greater than the flicker of an Olympic flame in need of fanning.  More importantly, his words were intended to exhort and inspire the 10,500 athletes to great heights, and to curry favour with the millions of media-leeches seeking satisfaction of their sporting fantasies while being subjected to the account of events by a ravenous media. But what else could Bach have said? Were the athletes listening? Was he not merely ingratiating his audiences with such old hat platitudes? And, why are so many magnetised by the pull of the OG?
Since the time of its original moorings in the 776 BC footrace in Greece (in honour of the God, Zeus), through the seesawing periods of their development and eventual modernisation in 1896, up to their modern-day format and rationale6, the OG remain entrenched in matters secular, in pursuit of bodily excellence as their raison d'étre7. All told, they succeed in distracting and disconnecting many from the spiritual dimensions of life.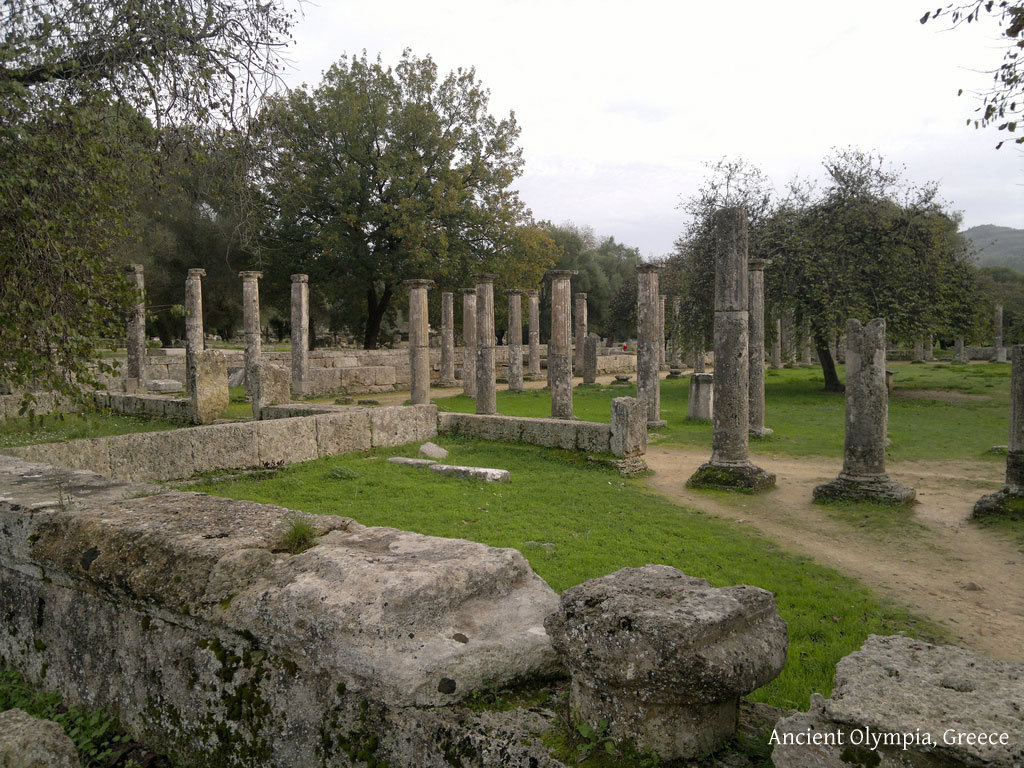 Of course, the Games have political, economic, and social ramifications and yields, but they have yet to go beyond the spectacle, pageantry, and thrills of extravagant opening and closing ceremonies, and an overall, sports-only structure and procedure.
The Games do not have the mettle to be less secular or be more in tune with what life is all about; cannot champion what the true reality of the Games is all about; are unable to ascribe to a higher force responsibility for what and how athletes can do what they do, and to whom all gratitude is due8; fail to express why indeed it is imperative to openly – individually and communally – show appreciation for, and awareness of, the real provider of the athletes' physical prowess, skill, talent, mental strength, will to succeed, self-belief, sense of achievement, hard work, resoluteness, preparation, support, good fortune, serendipity9, and need for esteem, recognition, and belonging; do not vouchsafe the reality that indeed all of these instances are buoyed by the unflagging provision of a Giving Creator. Islamic sports on moderate, less distracting and Allāh-connecting levels would mirror them as sine qua non10.
To the bulk of the OG fraternity, the Games cannot but be about sinews, sweat, stamina, and skills; that they are driven by the notion that devotion to 'God' is an individual, private matter; that the IOGC, officials, sponsors, and athletes and their hangers-on, are free to see the metaphysical in the Games independent of the universal values, principles, mission, and ethics of the basis on which they are held; that sport is one thing and religion another11.
This stance is diametrically opposite to what Islam promotes. Islam demands more than the universal values, principles, mission, and ethics so blandly espoused by the IOGC constitution. It expects all things in moderation.
It demands unwavering awareness of a Creator, recognised and revered at all times, for all things, and for all His Worlds12, including sporting events. Sport should be subjugated to such recognition and reverence. As we know them today, the OG are run on spiritually bankrupt grounds. Believing people would only have a glancing interest in them, and not be propitiated by their overt values of humanity and the fallacious role of helping to create a better world.
In the broader scheme of things, Islam is destined to prevail on earth13, and when that transpires, OG as we know it would cease to be a fait accompli or source of distraction and Allāh-disconnectedness to humanity.
---
Professor Sharhidd Booley has a PhD in (Social Science); MEd (Adult Education); MSc (Social Research); Certificate in Spoken Arabic (UWC); International Consultant for Postgraduate Research; former lecturer of social science, psychology, social work; author of several academic and professional pieces; former Director of SANZAF and Project Designer for IDM; 20 years experience in Family and Child Care (South Africa and United Kingdom). Professor Booley's Red Kufi Books column 'AS I SEE IT' will be featured monthly at redkufi.com
---
REFERENCES:
BBC, TV1 2016, Olympics 2016, 04 August 2016.
Ibid.
O'Neil, H F 2008, Introduction to psychology: Gateways to mind and behaviour. Cengage Learning: Stamford, USA.

Boykoff, J 2016, Power Games: A Political History of the Olympics, Verso, New York.

2016 OG, Opening Ceremony, Presidential Address, BBC TV1, 05 August.

Boykoff, J 2016, Power Games: A Political History of the Olympics, Verso, New York.

Girginov, V 2005, The OG Explained: A Student Guide to the Evolution of the Modern OG, Routledge, London.

Testa, A & Amara, M 2016, Sport in Islam and in Muslim Communities, Routledge, London.

Benn, T & Dagkas, S 2012, 'The Olympic Movement and Islamic Culture: conflict or compromise', The International Journal of the History of Sport, vol.5, no.2, pp.281-294.

Abdel Haleem, M A S 2001, Understanding the Qur'an: Themes and Style. I B Taurus: London.

Boykoff, J 2016, Power Games: A Political History of the Olympics, Verso, New York.

Al Qur'an, Al-Fatiha, Surah 1: 1-7.

————-, Al Ma'idah,  Surah 5:3.