By Sharhidd Booley
Only an Omniscient Creator Knows when the Islamic beacon will blaze above the beckoning of all other paths. The very excessive demands for superlative heights in physical performance by irreligious and distracting Olympic Games (OG) cannot be accommodated within Islam.
Hours, days, weeks, months, and years are spent by Olympians to reach those heights. Such effort distracts and disengages them from the more balanced, Allah-serving mode that He wants. The Games must be replaced by small-scale, low-level, community-based sporting events spread across societies worldwide. Communities need not, therefore, be shepherded by pretentious expertise or know-how of the IOGC regarding frequency, venues, size, population, or any other aspects of organising sporting events. Overarching methodological precepts and practicalities would be left to the province of the guardians of Islamic rules and conditions1.
The nub of more austere community sports events vis-a-vis that of the extravagant OG would be to serve Allah, celebrate His Power over all things and honour the practice of His Prophet (PBUH) (who gambolled in the occasional road race with his gamesome wife, Aisha)2. Islamic community sports – to those who wish to indulge in them – would make away with designs on any other global sporting conferences, like the probable 2024 OG event in Muslim Qatar3 or any events similar to the unfortunate and parochial Islamic Games held in Turkey or Saudi Arabia4. Rather than pointed fingers at the skies and gestures of mimicked crosses on their chests, a new breed of Usain Bolts would praise and glorify their Maker, orally, quietly, or in concert with co-believers aware of their Muslim purpose in life5.
Without the glitter, pomp, and ostentation of the OG, minuscule community sports events would open and close in the name of Allah Alone. As faithful, devout Muslims, participants, would be Allah-conscious, honest, and free of the shackles of doping. Unlike the conspicuous, uncaring practice of the OG, they would not be scantily clad or allow celebratory women at the opening and closing ceremonies infamously flaunting their fleshy, bodily contours for lesser males to ogle6. Instead, the 'aurahs of participants will be covered, preserved, and remain their property solely.  Faithful to the Muslim ethic, intoxicants that entice and delude the will of the weak, would not see the light of day at community sports events. There would be nothing alien to Islam. There would be no compromise, no let.
Modest, Islamic sporting events would be Allah's world epitomised and mirrored in minuscule. There would be laureates praising Allah, more than the 'God Bless you' of the non-Muslim Kipchoge Keno on accepting his award at the 'Rio' 2016 Olympics7.
The events would be held at times most suitable on the Muslim calendar. Simple and unchoreographed, they would open and close with the glorification and exaltation of Allah in addresses and Qur'anic recitations8; would witness athletes performing Islamic prostration and its customary ending, in gratitude to and glorification of Allah for their sporting achievements – as Mo Farah habitually does at the Olympic Games for all to see9.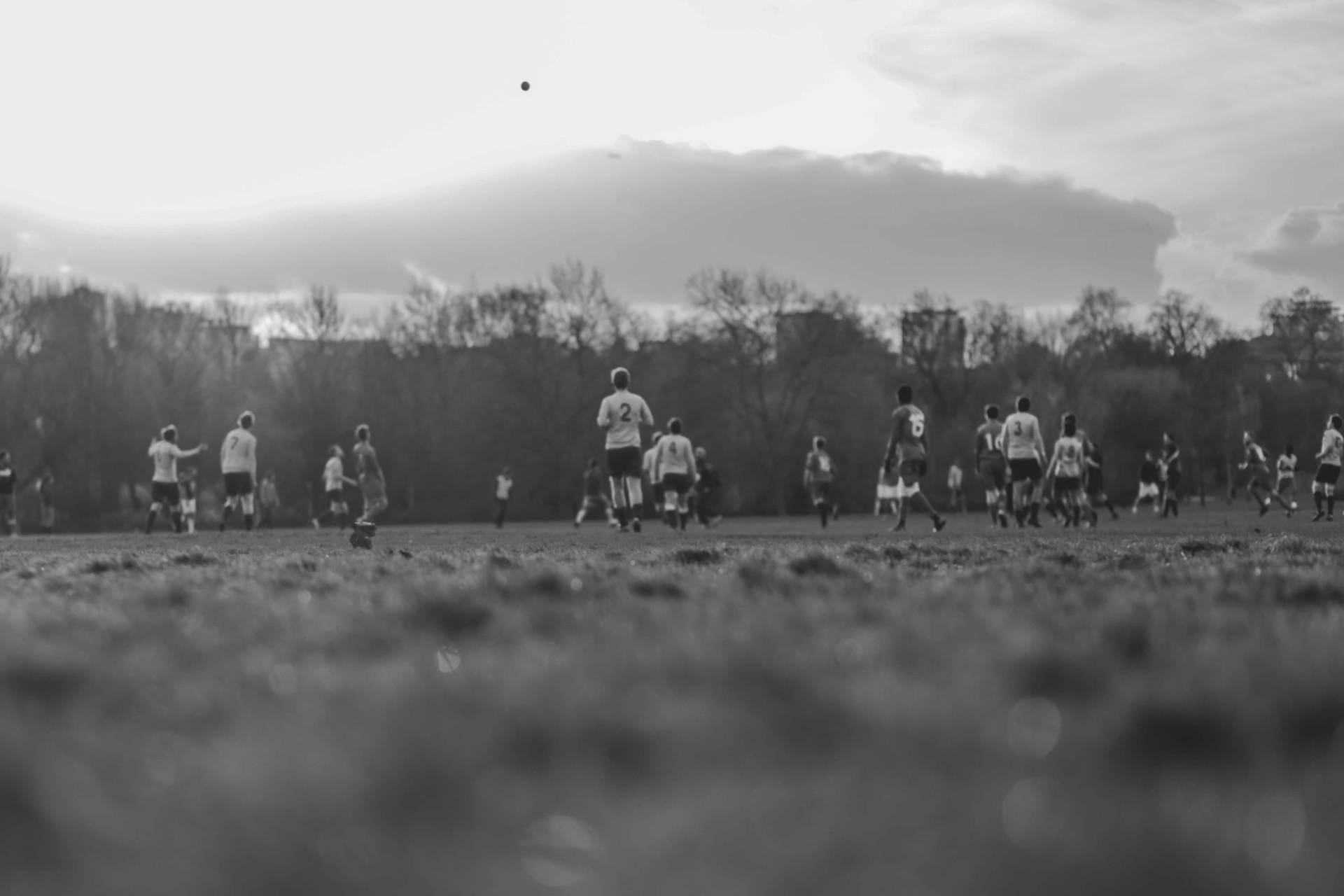 There would be the inclusion of non-violent and non-injurious events for competitors in contact sports10; segregation of sexes in all human actions, disallowing visibility across partitions11; allowance for congregational Salah and Jumu'ah on time, announced by melodious broadcasts of the athan12; provision of venues and auxiliary facilities for Salah, Jumu'ah, and related activities; and, marketing of halal and acceptable food and drink13. The atmosphere would embalm and entrance for the sake of Allah.
These would be the nuts and bolts of microscopic, Islamic community sports events entirely gelled with a larger world brimmed with the tapestry of a glorious Islam. Under the flag of Islam held high and the abiding flame of belief reigning over all and sundry, athletes would be pitted against one another, not only 'going for gold'14 in self-actualising their selves in track, field, and aquatic events but primarily to gain the precious pleasure of Allah15. His pleasure would be the medal of purest gold for which all of the participants in the events would go, more than the mere, though noble, metal of gold, and consolatory silver or bronze.
The Islamic community sports events would in no way resemble the staged, deceiving pinnacle of the world of supreme and extraordinary physical prowess that the OG purports to be. Rather, they would be the modest, non-distracting, Allah-connecting platforms for the expression of the awareness of believing athletes' potential and limitations and that of their accomplices. It would leave time and space to all those involved in far more desirable ways of serving Allah in the way He wants them to16, more than the mere stretching of the boundaries of every conceivable body movement for the sake of worldly acclaim and psychological boosting. There would be no room for the 'pursuit of bodily excellence'17 at the expense of true faith.
Without their faith, athletes and their entourages would be mere shells of women and men. Only the faithful would earn the pure gold of Allah's pleasure in earthly and heavenly lives18.
Above all, if life in its entirety is a test for humankind19, then the subservient community sports endeavour would be the place for athletes to show their bio-spiritual mettle. The enticing carrot of earthly metals so shallowly dangled in front of salivating Olympians would give way to enlightened believers engaged in sport and passing the test at lower levels. This is the challenge they would have on their hands.
When indeed the days of the era of Olympic Games are numbered through the plucking off of its super rank in world sport by the triumph of a ubiquitous Islam in times to come, then such Games '…among the wastes of time must go'20. Simple Islamic sports will be the victor ludorum as Dawud triumphed over Jalut in battle array with modest pebble and spirited catapult21. Allah Willing.
REFERENCES
Maesan, T A 2010, 'The perspective of Arabic women towards Sports Participation', Journal of Asia-Pacific Studies, vol.1, no. 2, pp.364-377.

Ali, A Y 2010, English Translation of the Holy Qur'an. Islamic Propagation Centre International, Durban: IPCI.

Silva, L H R 2014, 'The establishment of the Qatar National Olympic Committee: Building the National Sports Identity', The International Journal of the History of Sport, vol.31, no.3, pp.306-319.
Testa, A & Amara, M 2016, Sport in Islam and in Muslim Communities, Routledge, London.
BBC, TV1 2016, Olympics 2016, 04 August 2016.
Ibid.
Keno, Kipchoge 2016, Laureate Acceptance Speech, BBC, TV 1, Olympics 2016, 05 August 2016.
Nigosian, S. A. 2004, Islam: Its History, Teaching, and Practices. Indiana University Press, IND, USA.
BBC, TV1 2016, Olympics 2016, Mo Farah on winning the 10,000m track race, 14h00, 07 August 2016.
Al-Bukhari, A A M  205 AH / 827 AD, Struggle in the cause of Allāh, vol. 4, Book 52, Sahih Hadith No. 148.
———————————————————-, Salah,  vol. 1, Book 8,  Sahih Hadith No. 78.
Ramadan, Tariq 2007, In the Footsteps of the Prophet: Lessons from the Life of Muhammad. Oxford University Press, UK.
Turner, Colin 2005, Islam: The Basics. Routledge, London.
BBC, TV1 2016, Olympics 2016, an expression used by the TV station, now in common use.
Ali, Kecia 2014, The Lives of Muhammad.  Harvard University Press, London.
Al Qur'an,  Ál 'Imran, Surah 3:26.
White, J B 2013, 'Pursuit of Bodily excellence: Paul Weiss's Platonic (Religion) Imagination of Sports', Sport, Ethics, and Philosophy, vol.7, no.4, pp.391-411.
Al Qur'an,  Ál 'Imran, Surah 3:14.
Ernst, Carl 2004, Following Muhammad: Rethinking Islam in the Contemporary World. University of North Carolina Press, Nc, USA.
Duncan-Jones, K 2010, Shakespeare's Sonnets, 10th line of Sonnet 12, The Arden Shakespeare Third Series (Revised Edition), Bloomsbury, London.
Al Qur'an, Al Baqarah, Surah 2: 249-251.